About Hotspot Installations Ltd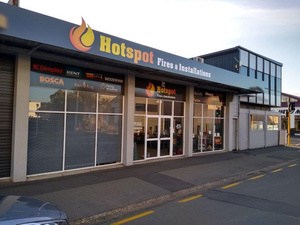 Hotspot Installations is proud to be New Zealand owned and operated family business that has been helping keep homes warm since 2015. Hotspot Installations are a certified installer and retailer with the New Zealand Home Heating Association (NZHHA).
Located at 96 Kelvin Street, Invercargill, Southland the Hotspot Installation showroom opened in March 2018.
Hotspot Installations stocks a wide range of fireplaces including leading brands; Ethos, Kent, Woodsman, Maxen, Bosca, Masport, Nectre, Wagener, Pryoclassic, Regency, Blaze King, Firenzo, Warmington wood fires, Ravelli and Enviro pellet fires along with Dimplex electric heating. Hotspot Installations take care of all your fire needs from installations to servicing and repairs. The team at Hotspot are always happy to help, when it comes to installing a fireplace, we can even help homeowners with lodging an application for building consent on your behalf.
With the new rules to home heating in Invercargill, Gore now in place, Hotspot Installations have the knowledge and experience to ensure your new burner is compliant with the National Environmental Standards (NES) for Air Quality. You can find out when your burner was installed, and if it's compliant with Invercargill or Gore City Council by contacting them.
Come into the showroom and see what we can do for you to ensure you meet the NES for Air Quality and talk to us about what sizes and styles would work in your home. We have a lot of versatile modern designs that are not only great on their smoke output but also energy efficient. Saving you each year in firewood.
We are your go-to for fires and pride ourselves on getting a job done well, the first time.
One company, one invoice, great service!
Phill Tily – Owner and Operator
Phill has extensive knowledge of the fire industry and is NZHHA certified. His knowledge of the industry comes from years in the industry and a passion to do the best by his clients, giving good customer service and getting as much knowledge as possible around fireplace compliance for each region of the country.
Phill is approachable and incredibly knowledgeable on anything to do with fireplaces. He doesn't believe in leaving clients hanging and if someone needs to know something, he'll find it out for them. If a job needs to be finished, he'll get it done. He believes in finishing an install to a high standard and is driven to be the best fire installation business in Southland.
Phill is driven and passionate about all things fireplaces, outside of work, you'll find Phill spending time with his children, friends and family. Phill and Laura are passionate about building and running their own business, as they can control the whole process of installation for their customers, ensuring an efficient installation and council compliance.
Laura Tily – Owner and Accounts Administration
Laura is proud that she and her husband have built Hotspot Installations into the growing business it is today. She loves that all the time and effort they have put in to create a business their way is creating a positive profitable business and a nice place to work. Laura brings a strong background in administration to her role, with ten years of experience in real estate administration.
For Laura, it's rewarding to employ great people and reward staff for a good job, to be thankful for their work and give them recognition. They are working to empower their staff to work independently and have the knowledge and expertise to think on their feet. They want to give their staff the tools and skills they need to have initiative and be confident in their roles
Laura and Phill are also parents with three young children and enjoy the flexibility they can sometimes have with running their own business.